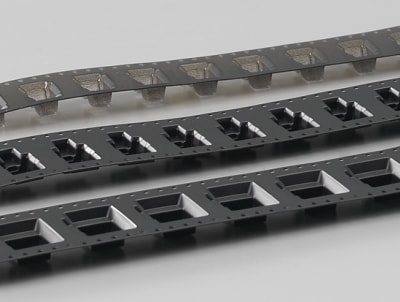 Packing materials for semiconductors, electronic devices.

[Industrial field]
Semiconductor, Automotive, Mobile equipment, PC, Home appliances
Performance
Shin-Etsu Embossed carrier tape contributes protection to electronic devices from physical damage during handling process and storage.
Our products also enable automatically feeding in backend process.
[Applications]
Semiconductor packages for SMT
Electronic devices for SMT
Characteristics
Multiple forming methods are able to support your business for suitable emboss shape and suitable production quantity.
Available for 0201M size devices, ultra thin bare die chips and special emboss designs for IC lead protection.
Available for W4P0.5 tapes, in order to reduce material volume.
Available for 2D barcode printing on carrier tapes for device traceability.
Specifications
Width:4mm to 56mm
Sheet material: Static dissipative(APET/PS/PC), Natural(PS)
Reel:Single windings, spiral windings, and suitable diameter.
We are able to design suitable emboss size/shape, based on each devices.
Embossed carrier tape for ultra small devices
High Rectangularity.
Available for 0402/0201M size devices, and W4P0.5 tapes in order to reduce material volume.
Reduce the effect of static electricity and paper dust compared to paper carrier tapes.